The Muslim Issue
Does Saudi Arabia have the world's biggest amphetamine habit?
.
July 23, 2010 | By Mark Tutton for CNN
.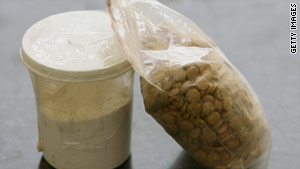 [Picture] Captagon pills and a cup of cocaine displayed by Lebanese anti-narcotics forces in June 2010.
.
The Middle East leads the world in amphetamine seizures but governments in the region have been slow to admit there is a drug abuse problem, hindering efforts to fight it.
All intoxicants, including alcohol, are forbidden by Islam, yet "immense volumes" of illegal amphetamines are being seized in the Middle East, particularly Saudi Arabia, according to Matthew Nice, a drugs expert with the U.N. Office on Drugs and Crime (UNODC).
The World Drug Report 2010, published by the UNODC, shows Saudi authorities confiscated 12.8 metric tons of amphetamine in 2008. A total of 24.3 metric tons of amphetamine were seized worldwide that year, with 15.3 metric tons seized in the wider Middle East.
View original post 780 more words